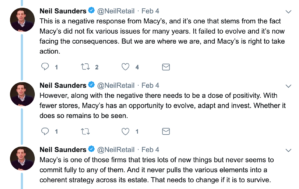 Suffice it to say that Macy's did not get what it wanted for Christmas, and is taking it pretty hard. In early February, following a disappointing holiday sales season, the legacy retailer announced it will close 125 stores, lay off roughly 2,000 employees, and shutter most of its San Francisco-based tech operation. Some analysts, like Neil Saunders of GlobalData Retail, were less than sympathetic, pointing out that Macy's "failed to evolve, and it's now facing the consequences." But Saunders also noted, via Twitter, something of a silver lining: "With fewer stores, Macy's has an opportunity to evolve, adapt and invest. Whether it does so remains to be seen."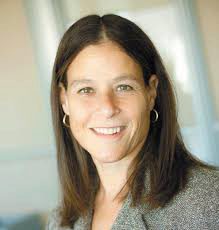 Indeed, the company claims this is all part of a three-year plan to "stabilize profitability and position the company for growth" – an increasingly common mea culpa for traditional retailers slow to adopt bold new strategies for success in the age of Amazon.
It's a dilemma that Wharton marketing professor Barbara Kahn has studied for years, deeming the epic disruption of brick-and-mortar stores as nothing less than a "Shopping Revolution." In 2018, she released a book on the subject, parlaying her research into a usable framework that explains how to survive – even thrive – amid the industry's radical changes and customers' shifting demands.
This isn't the first time Kahn decoded the strategic implications of successful retail disruptions. In the 1990s, she provided a similar level of insight into the grocery business, when Walmart was the big disrupter on the scene. "[Walmart] understood that customers want low prices, and they really attacked it from an operational point of view," she noted in an interview with Knowledge@Wharton.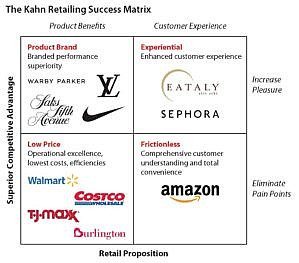 However, during her tenure as director of the Patty and Jay H. Baker Retailing Center (2011 to 2017), Kahn spoke to a wide variety of retailers, and came to realize that it's not just about merchandising prowess or good supply-chain prudence; a good retail strategy is sometimes about being the most convenient, or providing the best shopping experience or, perhaps, boasting the best brands. In other words, it's all about the customer these days – and that, she determined, is a how a retailer gains a differential advantage in the current shopping climate. The result of her many revelations has been the creation of a fresh framework that better reflects modern market conditions and challenges: i.e., the Kahn Retailing Success Matrix, which focuses on customers and competition over product and operations.
Kahn's unique rethinking of the traditional retail model, with its focus on the strategic initiatives that best underscore the importance of customer value, has quickly caught on. Wharton students and industry leaders alike have been eager to hear Kahn expound upon the findings in her book and learn how retailers can leverage their strengths in various areas of the Success Matrix for optimal market advantage.
Sarah Toms, executive director of Wharton Interactive, attended one of her talks last year and immediately saw the potential for bringing the framework to life in the classroom setting. She soon connected Kahn with the Learning Lab, where her research could be transformed into an educational tool for teaching the retail leaders of tomorrow how to succeed in the changing retail landscape of today.
This fall, the fortuitous collaboration bore fruit in the form of an immersive, cutting-edge simulation, Pivot or Perish – built on the Lab's own proprietary framework, Simpl. "Retail is such a relatable market for almost everyone, and that ubiquity made it a prime candidate for a simulation," says IT Director Joe Lee, offering a glimpse behind the scenes of the new sim. "We took the retailers [Kahn] mentioned in her book and modeled computer-based companies on their behavior and strategies." A well-known, currently struggling legacy retailer (that shall go unnamed…) is the centerpiece of the experience, putting the student in the driver's seat of the company's fate. With all the levers presented in Kahn's book at their fingertips, players are tasked with making decisions that will enable them to stay profitable – all while similarly situated competitors attempt to take their market share. Put another way: You win the game by finding ways to successfully pivot before your company perishes.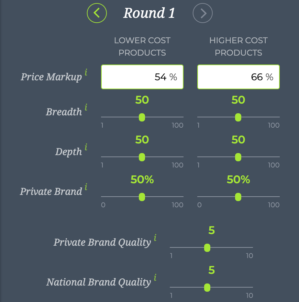 "Pivot or Perish is the first major simulation that we've undertaken completely from scratch since Prof. Pete Fader's Customer Centricity simulation," Lee says, crediting a crack team of developers and designers for deftly transforming Kahn's vision into reality. Among the all-stars involved are Todd Norris, a senior fellow from Wharton's Aresty Institute of Executive Education, who turned key pillars of data from The Shopping Revolution into the simulation's bedrock mathematical model; Jane Eisenstein, the Learning Lab's senior developer, who worked tirelessly to build the Pivot or Perish concept into the engaging, interactive game it would become; and the team at Backpack Interactive, whose wealth of UI experience in the education sector led to the simulation's high functionality and compelling design.
The resulting experience provides students with a deeper understanding of how to gain a business edge through giving customers "something they value from someone they trust" – a core principle of Kahn's framework – and going head-to-head in the same market with different competitive strengths.
Whether it's the steady stream of stories about shuttering storefronts, or the bold gambits announced by established retailers trying to remain relevant, "you don't need a degree in Marketing to see the impact of disruptive players in the retail space," Lee points out. "Customer expectations are constantly changing as the forces in the marketplace make what was once novel, like two-day shipping, commonplace, and competitors scramble to keep up. Pivot or Perish," he adds, "flips this reactionary paradigm on its head, empowering [users of the simulation] to optimize a typical retail operation's strengths through the matrix of Barbara's formula for success – and that's a true differential advantage."