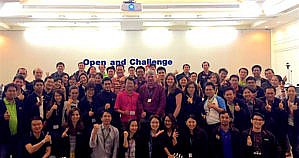 What do the Hong Kong University of Science and Technology, the IE Business School in Madrid, HEC Paris, and Dubai's S P Jain School of Global Management all have in common with Wharton? Well, besides being among the Financial Times' top-ranked MBA programs in 2017, they all use simulation games developed right here in the Learning Lab.
And they're not alone. Around the globe, from the Grandes Écoles ("Grand Schools") of France to top universities in Copenhagan, Australia, India and dozens of other countries, there are thousands of students applying their burgeoning business acumen to The Startup Game and OPEQ — two of our best-selling sims available through Harvard Business Publishing (HBP), which recently issued a report detailing worldwide distribution of both games in 2016.
Their popularity in Wharton entrepreneurship and negotiation classes notwithstanding, the HBP report is a noteworthy success for our team in that it illustrates the symbiotic synergy between the goals of the Learning Lab and those of the University at large.
The former reflects the expressed intentions of our namesake, Alfred West Jr., who gifted the School with $10 million in 2001 to establish a veritable laboratory for creating "innovative learning tools that challenge students to think strategically across business functions and organizations" and enable Wharton to "take a lead role in rethinking the learning paradigm." Nearly two decades later, the Learning Lab's historic mission is increasingly central to President Amy Gutmann's own vision for the future of the University of Pennsylvania.
According to Gutmann, "Our commitment to global engagement is essential to what I call 'educational diplomacy. Now more than ever, we are bringing Penn to the world and the world to Penn. And in doing so, we are building stronger cross-cultural connections, deeper relationships, and mutual understanding within the global community."
Sharing an ethos that embraces collaboration and the exchange of knowledge is Wharton Dean Geoffrey Garrett. "Globalization and technological change are poised to transform business education. I have no doubt Wharton will be in the vanguard of this transformation here and in other countries," he stated upon taking over the position in 2014.
The School's Executive Education division has helped draw an international audience as well, partnering with the Learning Lab to build custom learning experiences for foreign audiences both on-campus and abroad.
In 2016 alone, more than 1,000 participants experienced one of our simulations in their Wharton Exec Ed program. One of Africa's foremost financial institutions, for example, has sent over managerial staffers for a two-week business-leadership bootcamp built around the EDP Simulation four times in the last two years! (And it always ends the same: with a celebratory, fist-pumping "warrior chant." See it in the video below.) Among dozens of other games to cheer for, I should note, we developed a similar EDP program for a multi-national manufacturer in Thailand, which Technical Director extraordinaire Sarah Toms flew out to personally facilitate in 2016.
From the start, Dean Garrett has made it known that, though seated in the U.S., he sees Wharton as an asset to the entire world — and, in turn, bringing the world into the classroom in order to prepare students to be truly global leaders.
Whether that classroom is in Singapore, Saudi Arabia, Switzerland or Estonia, Learning Lab sims like OPEQ, The Startup Game, and EDP are doing just that, augmenting traditional learning in undergraduate, MBA, and executive education programs with dynamic, virtual "real-life" business experiences. And while they may be created with faculty members here in Philadelphia, they are now driving home their educational underpinnings on campuses around the globe.