Keep Talking and Nobody Explodes is a cooperative, team-based game where one player is trappedwith a ticking time bomb that must be defused before it goes off, and their teammates are tasked with coaching them through the process with information found in a complicated Bomb Defusal Manual.
The catch is that only the defuser can see the bomb, and only the "experts" deciphering the defusal instructions can see the manual. The high-pressure play that ensues is a great lesson on teamwork, communication styles, and operating in a crisis.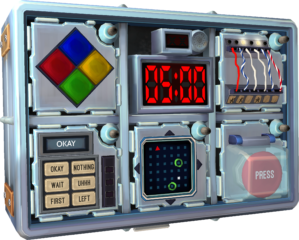 Faculty who use this game with any frequency can "trigger" a different bomb every time – its procedurally generated puzzles and challenges keep the action fresh, enabling repeated use. It also supports virtual reality (VR), and the Learning Lab recently acquired Oculus Go kits if you want to take this simulation to the next level!
If you're interested in using Keep Talking and Nobody Explodes, email the Learning Lab team.