A remarkably simple-to-use term-mapping tool used to visualize, organize or link positive and negative interactions.
Spearheaded by award-winning Wharton professor Nicolaj Siggelkow (co-director of the Mack Institute for Innovation Management), and developed by the Learning Lab, Intermap is an incredibly useful application designed to allow for the easy charting and interactive visualization of  terms or concepts.
The web-based tool's click-and-drag functionality allows relationships to be dynamically mapped as terms are entered, organized, and set as positive and negative interactions. The resulting charts are organized into projects that can be instantly shared with classmates or colleagues. Other features include the ability to create distinct color tags for terms that enhance the overall chart-making process.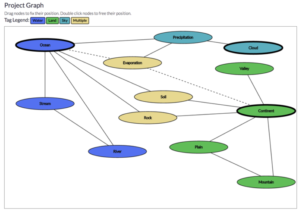 This popular idea-generation app (published within Canvas as a module) recently underwent an upgrade that boosted its functionality using aspects of our new web framework,
SIMPL
. In addition to LTI user authentication, a streamlined interface now allows Intermap to be used on tablets. Another fantastic new feature is a co-editing component has been built in to make it easy for users to collaborate with project partners or share their work.
For more information on InterMap, check out the user guide HERE, or contact the Learning Lab team: learninglab@wharton.upenn.edu.