Developed by Peter Fader, Wharton's award-winning Frances and Pei-Yuan Chia Professor of Marketing, in partnership with the Learning Lab, Customer Centricity provides a uniquely effective educational experience that immerses players in the C-suite-level decision making of a company shifting from a product-focused model to a customer-centric strategy over progressive rounds of gameplay. Perfect for marketing students and executives in professional development, this sim proves that the best way to learn is by doing!
The Game
While the Hartnow corporation is profitable, its reliance on a product-centric strategy is not enough to drive business growth. Over the course of this simulation, the CMO is presented with a number of challenges, opportunities, and other operational spending decisions aimed at identifying the most valuable customers and maximizing their lifetime value – all while trying to find and attract new customers with similar qualities.
The CMO is also equipped with a highly interactive Customer Relationship Management (CRM) dashboard offering the ability to richly analyze various performance metrics in order to inform future strategic decisions; this invaluable tool can be further developed each fiscal quarter through various investment choices. The simulation allows students to explore and analyze various marketing, sales and customer-service strategies relating to customer acquisition, retention, loyalty, and referral, as well as organizational decisions that ultimately impact customer equity and lifetime value.
The Book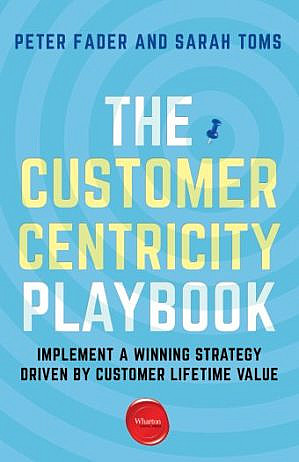 The Customer Centricity Playbook, by Prof. Fader and Wharton Interactive's executive director Sarah Toms, is an additional accompaniment to the simulation, helping you see your customers as individuals rather than a monolith, so you can stop wasting resources by chasing down product sales to each and every consumer.
Featured in Forbes, NPR's Marketplace, and a Google Talk, The Customer Centricity Playbook offers "actionable insights to drive immediate value," according to Neil Hoyne, Head of Customer Analytics and Chief Analytics Evangelist, Google.
2019 BEST BUSINESS BOOK, DIGITAL BOOK AWARDS
2019 AXIOM BUSINESS BOOK AWARD WINNER