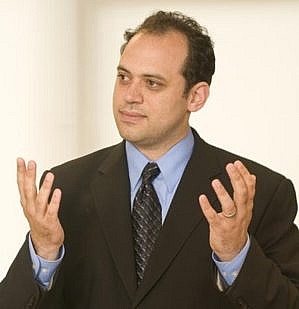 Entrepreneurship is often taught experientially, but many of the experiences that we can provide to students focus on the earliest days of a startup, and thus many classes emphasize stages like ideation and early idea testing.  However, many of the most important lessons we can teach as entrepreneurship instructors – about strategy, teams, management issues, and more – are most relevant later in the life-cycle of a company.  These issues are therefore difficult to teach experientially.
Alternate Reality Teaching (ART) was designed, from the start, to offer a solution to this seemingly intractable problem of marrying classroom learning with "real world" experience. ART allows an instructor to create a scenarios designed to complement, and support, in classroom learning.  The students interact with non-player characters, and each other, to solve problems turning theory into practice.
In our entrepreneurship simulation, students are placed in the role of entrepreneurs after the company founder that hired them mysteriously quits. Using our platform over three weeks in real time, students navigated strategic issues, legal challenges, personnel decisions, and a wide variety of other scenarios.  This ART covers dozens of learning objectives.  Students learn how to split equity, pivot from one market to another, deal with competitors in an emerging industry, and even how to deal with the press.
Each lesson is backed up by readings in the syllabus, and learning is reinforced through class discussion.  Students are therefore incentivized to engage with classroom material in order to solve problems in the game. In addition to this classroom learning, the instructor, along with teaching assistants, can take over the role of non-player characters in the simulation to answer questions, reinforce lessons, and add challenges.
Activity within the ART is graded, and time is dedicated to debriefing the experience in class during the simulation. This allows for instructors to introduce concepts in a lecture and have their students encounter a situation where they can immediately apply that knowledge, reinforcing the lesson.
The Student Experience
To make the simulations feel realistic, we built an elaborate backstory for the ART.  We invented a fake technology, fake companies, and even fake web presences.  Students are invited by Dr. Darla Xavier (our fake founder), to join her startup and help prepare for a big investor pitch.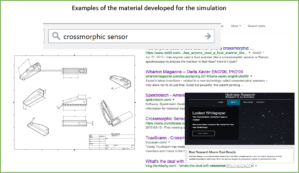 Upon accepting the challenge, students log into our Looking Glass platform, and find themselves in teams of six. Each student is encouraged to set up their own identity – picking a name, gender, and even picture. They will never learn the real names of the people on their teams, creating a safe environment to experiment with leadership styles and approaches without the fear of real-world consequences.  Students introduce themselves, and have a chance to speak with Darla, who is brought to life by a mix of computer-generated dialogue and Looking Glass team members working behind the scenes. 
A whole range of new teaching approaches were introduced  in ART: badges, achievements and leaderboards motivate and guide students; students can be pseudonymous in order to experiment with new leadership styles in low risk settings (several female students reported that role-playing as men has helped them refine their own approach to leading groups); and an elaborate world that encompasses dozens of websites built just for the game allows students to use the same tools they would in real startups in the simulation. 
So far, a total of 270 MBAs, undergraduates, and part-time students played the game entirely anonymously (selecting their own names and identities), allowing them to experiment with leadership styles and approaches.  Engagement was very high –  students sent over 30,000 emails and chats in the game, and 2/3 of students surveyed indicated that Looking Glass was more engaging then traditional teaching methods, including cases.
The current version of Looking Glass is available for use by instructors at other schools, but does require the instructor to do some role-playing of the in-game characters.  However, we are now building a second version of the simulation that can easily be adopted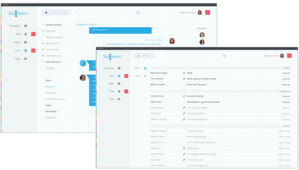 by any other instructor.  The new version will allow thousands of people to play through a scenario like the one created by Looking Glass, but without the need for direct intervention by teaching staff. Running as a mobile app, the new version will have the same platform capabilities as Looking Glass, including the ability to create new scenarios, evaluate student progress, and deliver lessons. 
More information on facilitating ART through the Learning Lab's Looking Glass platform can be found here.