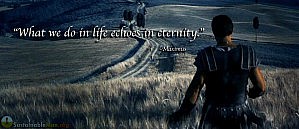 "What we do in life echoes in eternity…" 
I'll hazard a guess that "Gen. Maximus Decimus Meridius" (hint: the gladiator in Gladiator) was not thinking about the importance of code quality and documentation when he addressed the above wisdom to his cavalry on the battlefield.
But really, what IT organization wouldn't benefit from a fictional Roman general showing up before the start of a new project to gravely remind everyone about lasting consequences? After all, the decisions you make in code design today will affect your organization for months – or years – into the future.